Abhishek went straight from the field to the hospital
The opportunity to play Tests for the national team is a dream come true for all players. That dream has been fulfilled today by Trinidadian cricketer Jeremy Solorzano. He got the cap of the West Indies Test team against Sri Lanka in Galle.
However, the morning of the dream turned into a nightmare. He is now in hospital after playing his debut Test. The incident took place in the 24th over of the innings. Ruston Chase was bowling against Dimuth Koranaratna. Solano was fielding with a short leg.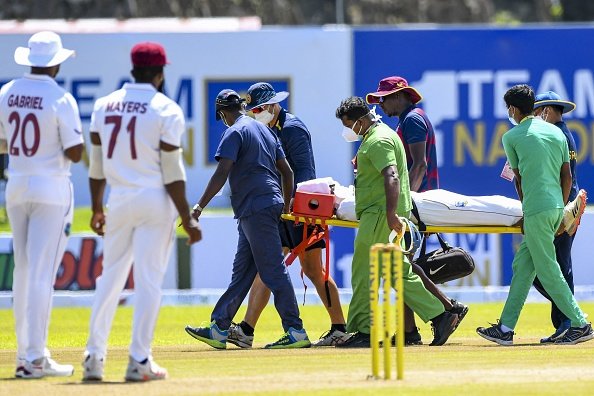 source
Karunaratne got the fourth ball from Ruston at short length and played a leg-side shot. However, it hit directly on the front of Soljano's helmet. When the ball hit the ball with the speed of the bullet, Soljano fell on the field. The medical team of the Windies team rushed from the dressing room as soon as they saw his condition was serious. Gone first aid.
He was then taken out of the field on a scoop stretcher. According to Cricket West Indies, Soljano was taken to hospital by ambulance for a scan.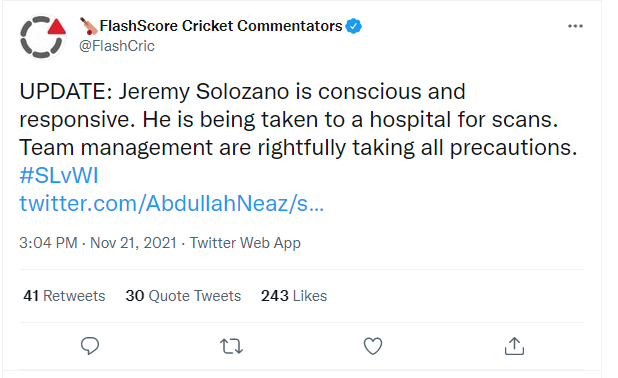 source
The young man who entered the playground is in prison
A court has sent Russell to jail for entering the field during the Bangladesh-Pakistan match at the Sher-e-Bangla National Stadium in Mirpur.
Police produced him in Dhaka's Chief Metropolitan Magistrate's Court on Sunday (November 21st). Police then remanded him in custody for seven days under Section 54 of the Criminal Procedure Code.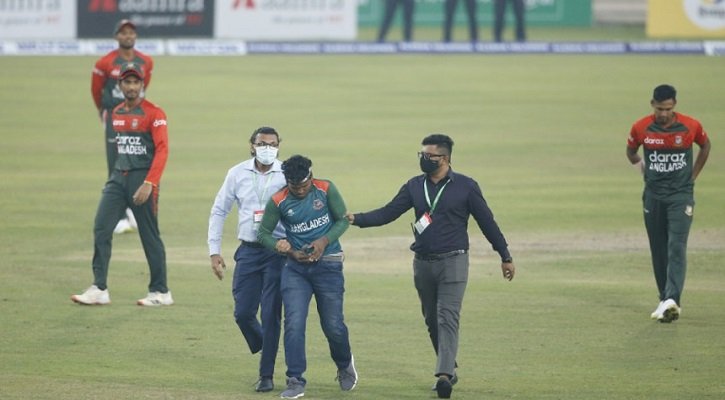 source
Following the hearing, Dhaka Metropolitan Magistrate Morshed Al Mamun Bhuiyan rejected his remand application and ordered him to be sent to jail.
Bangladesh won the toss and elected to bat
Bangladesh women's cricket team won the toss in their first match of the World Cup qualifiers. Captain Nigar Sultana Jyoti has decided to field first in the match against Pakistan.
The match will start at half past noon Bangladesh time at Old Hararians ground in Harare, Zimbabwe. In the last three shows, Team Tigers, led by Rumanar Ahmed, lost twice to Pakistan girls.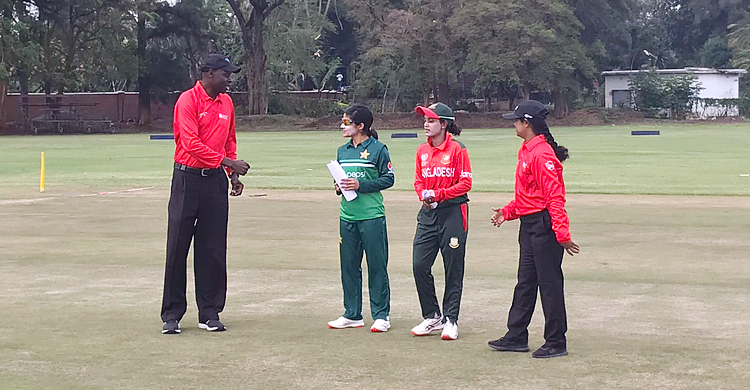 source
A total of ten teams are taking part in the selection. They will play in two groups. There will be a total of six teams, three from each of the two groups, in the Super Six Round. From there the top three teams will get tickets to the World Cup.
In addition to Pakistan, the United States, Thailand, and hosts Zimbabwe are in Bangladesh's group in the first round.
Bangladesh Squad
Nigar Sultana Jyoti, Murshida Khatun, Nuzhat Tasnia, Farzana Haque Pinki, Rumana Ahmed, Ritu Moni, Nahida Akter, Salma Khatun, Jahanara Alam, Lata Mandal, Fahima Khatun, Fariha Islam Sobna, Fariha Islam Trina Khadija-Tul Kubra and Sanjida Akhter Meghla.
Standby: Shamima Sultana and Suraiya Azmim.
Whitehead, who played in Bangladesh, took 10 wickets alone
In recognized cricket, taking a full ten wickets in an innings is a dream come true for any bowler. South Africa's young all-rounder Shaun Whitehead made the feat on Saturday. Who played for the South African youth team in the 2018 U-19 World Cup in Bangladesh.
Whitehead took 10 for 36 in the second innings of the four-day franchise series for the Southwestern Districts on Saturday. Eastern bowlers chased down just 18 runs off his bowling cannon and were all out for 75 runs. Whitehead won by 121 runs.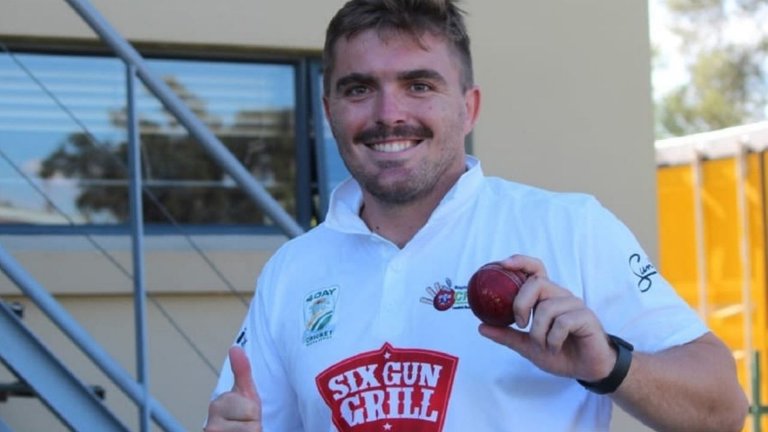 source
Before taking 10 wickets in the second innings, Whitehead bowled well in the first innings and took 5 wickets for 64 runs. Apart from this, he has taken 8 and 45 runs in two innings. He is the hero of the victory of Southwestern Districts with 15 wickets and 111 runs in the match.
Whitehead has played all six matches for South Africa in the 2018 Under-19 World Cup in Bangladesh. He took just six wickets at an average of 26 in those six matches. The pace bowling all-rounder has now taken 461 runs and taken 39 wickets in 13 first-class matches.
Whitehead's 10 for 36 is the second-best bowling record in South African domestic cricket. About 115 years ago, in 1908, for the Eastern Province, legspinner Bert Vola took 10 wickets for just 26 runs.
Seamer Mario Oliver was the last bowler to take 10 wickets in an innings in South African domestic cricket. He took 10 wickets for 75 runs for the Warriors in December 2006.
Snow has not forgotten the double century made on Indian soil
Tushar Imran has all the success in Bangladesh as much as he can in first-class cricket as a batsman. He has the highest number of 11972 runs, the highest 32 centuries, the highest 63 half-centuries. Tushar Imran became the first Bangladeshi to complete 10,000 runs long ago, leaving the rest behind.
Now, this stylish batsman from Jessore is standing at a distance of 12,000 runs. And only 26 runs are needed. Only then could he touch that milestone. If he had played, maybe this year he could have touched the extraordinary achievement of Snow. But no! He has already said goodbye.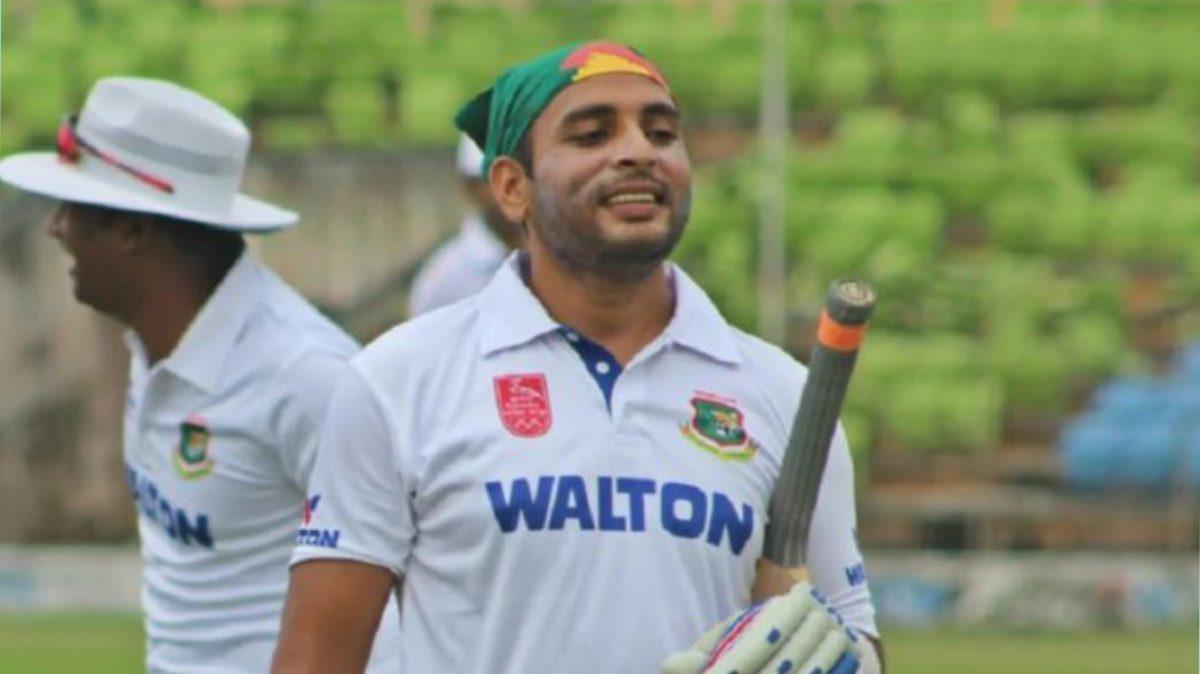 source
Today (Sunday) in the National Cricket League match against Khulna against Dhaka, Tushar could have become the first member of Bangladesh in 12 thousand clubs in first-class cricket by scoring 26 runs. But don't play anymore because of injury. Saying goodbye from outside the field.
In an exclusive interview with Jago News, Tushar said, "I value commitment, dedication, and word of mouth more than setting records and completing 12,000 runs." Before the start of the national league this year, I said, if I can not run, then I will not continue, I will leave.
He further added, 'I saw on the field the bat was not talking, there was no run. I have scored 50 runs in 5 innings of the last three matches (13, 21, 1, 15, 0). So I thought to stay, this time it's too late. '
Speaking about his long journey in the National League, Tushar Imran said, "First-class cricket started in 2000. The country has played 22 of the 23 national leagues. That too is a great achievement. '
The career of the country's most successful batsman in first-class cricket did not last long at all. Test career age 5 years (July 2002 to July 2006), 5 matches. And in that year (March 2001 to December 2006) he played 41 ODIs.
The dream of returning to the national team was in my heart. He has been playing with dreams for so long. However, regret is burning at the time of farewell. There was a lot of hope to return to the national team. He has been playing first-class cricket with great hope every year. He also played well and scored a lot. Century-half-century was a constant companion.
Even then he did not return to the national team. Cricket has to say goodbye to the pain of that disappointment. He feels bad thinking that, 'I really wanted to return to the national team. I wanted to live, I dreamed I would play for the country again. But that dream did not come true. '
Recalling his form in the 2016-17 season, Tushar added, "But one regret is that I was in very good form in the 2016-2017 season. Now I think it was time to come back. The pain of not returning is still painful. '
He has scored 32 centuries in first-class cricket, not one or two. He has scored three double centuries. Many have played long innings. Bhuribhuri has golden innings. But you will be surprised to hear that not a single word of them seems like that at the time of farewell. The National League does not want to make any special century or bicentennial of BCL particularly memorable.
In his words, 'Yes, there are memorable innings and events. However, I do not remember any such innings in first-class cricket. On the contrary, I remember the double century scored by the 'A' team against Maharashtra in India at the beginning of my career.
'Probably in 2001, we went to India for this team. I was asked to open the match for Maharashtra in Pune. I think Mehrab Hossain Opi Bhai was my opening partner. I remember I scored a double century in that three-day match against Maharashtra. That innings gave me a place in the national team.
Apart from this, the match-winning century played for Dhanmondi against Mohammedan in Dhaka Premier League in the 2001-2002 season is also very dear to Tushar. The innings of winning a match for the national team are not cut in that way. But two innings still burns him. The first was against Kenya in the 2003 World Cup. The other is in Chittagong with Pakistan.
Snow's assessment was that his team had a golden opportunity to return to the dressing room after winning both matches. But he could not because of his young age.
"Before I left the country, I said I would win the match against Kenya," Tushar said, recalling the 2003 World Cup match against Kenya. Akram Bhai and I went a long way in the match. But I couldn't. I could not do that with Pakistan in the 2001-2002 season. We could not win Pakistan all out for 202 runs.
Tushar remembers former guru Jalal Ahmed Chowdhury during his farewell. He regretted not being able to inform the late coach about the news of his departure from cricket. He also spoke about the influence of Jalal Ahmed Chowdhury in his career.
What to do after leaving the game? Still not fixed. But I want to coach. He is currently working as the head coach of an academy. Want to work for the country's cricket if given the opportunity. Tushar would gladly agree to any offer from the BCB, 'Cricket is meditation, I was interested in cricket. I want to live forever. '
Many of his contemporaries are in some position on the board. Some are selectors, some are junior selectors. Someone is coaching an age group. Some are also working in cricket operations, game development. The inclusion of Snow in that team may be a matter of time.