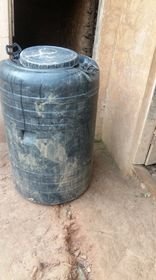 Our next plan:
the people of Lake Bunyonyi in Uganda not only have no electricity in their homes, but also no water.
The water has to be fetched from a well.
The children often have to help ... and drag ...
The water is then often kept in such bins (as in the photo) or in canisters.
We plan to buy a water tank (3000l).
This will allow rainwater to be collected and 5 families will have access to the tank.
That costs around € 300.