Po dlouhém sběru podpory a financí konečně posílám finanční prostředky pro fond Karla Janečka, konkrétně tedy do Štědromocné sbírky, která pomáhá těm, kteří pečují o své blízké se zdravotním postižením.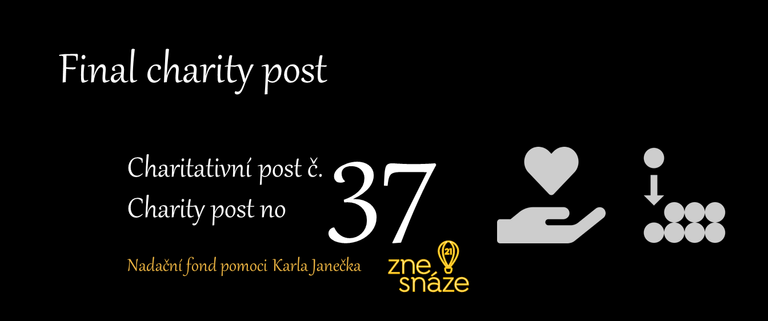 Štědromocná sbírka běží na charitativní crowdfundingové platformě znesnáze21.
Celkem jsem vybral, vlastně i díky forku Steemu na Hive, kdy se v jeden moment vlastně odměna zdvojnásobila, za pomocí tokenů HIVE, HBD, STEEM, SBD, NOBEL a CHARY celkem 0,01096837 BTC. Přes Hive Engine jsem je odeslal na adresu Štědromocné sbírky. Aktuální hodnota je zhruba $390.
BTC již dorazily na adresu Štedromocné sbírky.

Děkuji, že jste v minulosti hlasovali pro předchozích 36 charitativních postů a podpořili tak dobrou věc.
---
After a long time of collecting finances, I finally send assets for the Karel Janeček Fund, specifically to the collection which helps those who care about their loved ones with disabilities.
The collection runs on the charity crowdfunding platform znesnaze21.
In total, I collected (also thanks to Steem's fork into Hive, when the reward actually doubled in one moment), in HIVE, HBD, STEEM, SBD, NOBEL, and CHARY, tokens a total of 0.01096837 BTC. I sent them via the Hive Engine to the address of the collection. Actually, the value is approx $390.


BTC already arrived at the bitcoin address of the charity collection.
Thank you for voting for the previous 36 charities in the past to support a good cause.