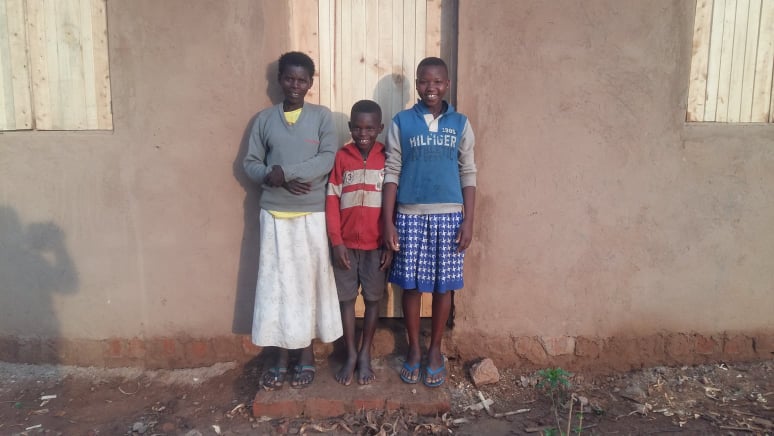 The time has come !!
Milica, her mother and her brother moved into their new house today!
Over the next few days, ceilings will be drawn in and the walls will be painted.
But that happens room by room .....
Milica's family sent us some thank you videos!
Es ist endlich so weit !!
Milica, ihre Mutter und ihr Bruder sind heute in ihr neues Haus gezogen!
In den nächsten Tagen werden noch Decken eingezogen und es werden die Wände gestrichen.
Das geschieht dann aber Raum für Raum.....
Milicas Familie hat uns ein paar Danke-Videos geschickt!
---
---
We also say THANK YOU for your support.
And we would like to thank Bosco very much, without whom this would not have been possible.
He took care of everything, signed the contracts, trusting us that the money would come.
He supervised the construction and kept in touch with Milica's family. He also had no experience in building a house and now we are all glad that it went so well!
Thank you Bosco! 🙏
---
---
Auch wir sagen DANKE für eure Unterstützung.
Und wir bedanken uns ganz herzlich bei Bosco, ohne den das garnicht möglich gewesen wäre.
Er hat sich um alles gekümmert, die Verträge abgeschlossen, im Vertrauen zu uns, daß auch das Geld kommt.
Er hat den Bau beaufsichtigt und den Kontakt zu Milicas Familie gehalten. Auch er hatte keine Erfahrung im Hausbau und nun sind wir alle froh, daß es so gut geklappt hat!
Danke Bosco! 🙏
---
Review:
On November 12th we were asked if we could help.
The house had been half destroyed in a landslide, and with no other option, the family continued to live in the remainder of the collapsing house.
Michael and I were sure we couldn't do it this year too.
Nevertheless, we made an appeal for donations because we were worried that something might happen to the family ...
The WAZ also made an article.
And then donations actually came ... and on December 4th. we started building the house!
We can hardly believe it ourselves, but today we are moving in!
🏠🏠🏠🏠🏠🏠🏠🏠🏠🏠🏠🏠🏠🏠🏠🏠🏠🏠🏠🏠🏠🏠🏠
There is even money left for a bed and mattresses!
And of course the family could choose the wall color themselves.
---
---
Rückblick:
Am 12.11. kam die Anfrage, ob wir helfen könnten.
Das Haus war bei einem Erdrutsch halb zerstört worden und da die Familie keine andere Möglichkeit hatte, wohnte sie weiterhin im Rest des einsturzgefährdeten Hauses.
Michael und ich waren uns sicher, daß wir das dieses Jahr nicht auch noch schaffen können.
Wir haben trotzdem einen Spendenaufruf gemacht, denn wir hatten Sorge, daß der Familie etwas passiert...
Außerdem hat die WAZ einen Artikel gemacht.
Und dann kamen tatsächlich Spenden....und am 4.12. haben wir angefangen, das Haus zu bauen!
Wir können es selbst kaum glauben, aber heute ist Einzug!
🏠🏠🏠🏠🏠🏠🏠🏠🏠🏠🏠🏠🏠🏠🏠🏠🏠🏠🏠🏠🏠🏠🏠
Es ist sogar noch Geld da für ein benötigtes Bett und Matratzen!
Und die Wandfarbe konnte die Familie sich natürlich selbst aussuchen.
---
---
❤️ Many thanks to everyone who helped us this year to provide light, buy groceries, pay medical bills and medication, keep the children happy with toys and build Milica's house!
You are wonderful, generous people!
WE ARE ALL HAPPY AND GRATEFUL !!! 🙂🥂🍾❤️❤️❤️
We wish you all a happy new year (hopefully more beautiful) 2021!
---
---
❤️lichen Dank an alle, die uns dieses Jahr geholfen haben, Licht zu schenken, Lebensmittel zu kaufen, Arztrechnungen und Medikamente zu bezahlen, die Kinder mit Spielzeug zu beglücken und Milicas Haus zu bauen!
Ihr seid wunderbare, großherzige Menschen!
WIR SIND ALLE GLÜCKLICH UND DANKBAR !!! 🙂🥂🍾❤️❤️❤️
Wir wünschen euch allen einen guten Rutsch ins (hoffentlich schönere) Jahr 2021 !
---
---
Unser Spendenkonto:
Our donation account:
https://paypal.me/pools/c/8tibto8Lrl