Many travel alone. Some of them go to different places for business and spend the night in hotels. According to one's financial means, one person stays in different hotels.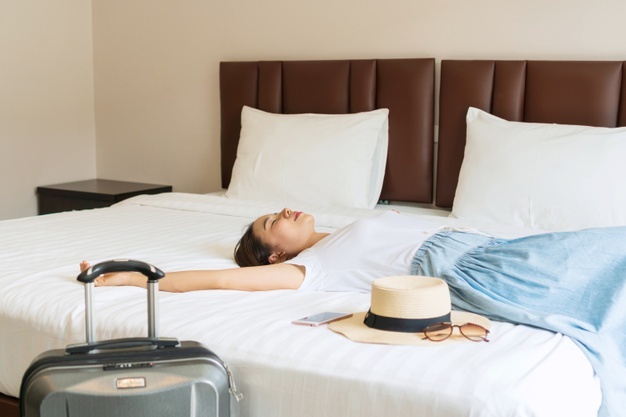 source
However, after getting up at the hotel, you often have to face various unforeseen incidents. For this reason, it is important to be aware of safety before boarding a hotel alone. Find out what to do -
If you book a hotel to stay alone, you must check its security. But staying in an expensive hotel is not the best security. Try to find out if the hotel security guards are on duty for 24 hours.

Rent a double bed room. Then you will be much safer. In this case, others will think you have someone with you. It's a strategy to stay safe.
If you are alone, never stay on the ground floor of the hotel. Those who commit criminal acts are always on the ground floor. They can harm you if given the chance.

When leaving the hotel room, if you submit the key to the manager, say the room number softly. So that no one can hear. At the same time, tell the manager in advance not to give your house number to anyone else.

For security reasons, refrain from saying the name of the hotel to a stranger outside the hotel.

Do not always share information about where you are or what you are doing on social media. It can sometimes cause danger.
Do not enter the hotel room when you see someone following you. If so, don't stop walking. Walk straight to the elevator on foot. Inform the hotel authorities if there are more problems.

The hotel security guards are actually careful to clean the room. Keep the necessary things to yourself.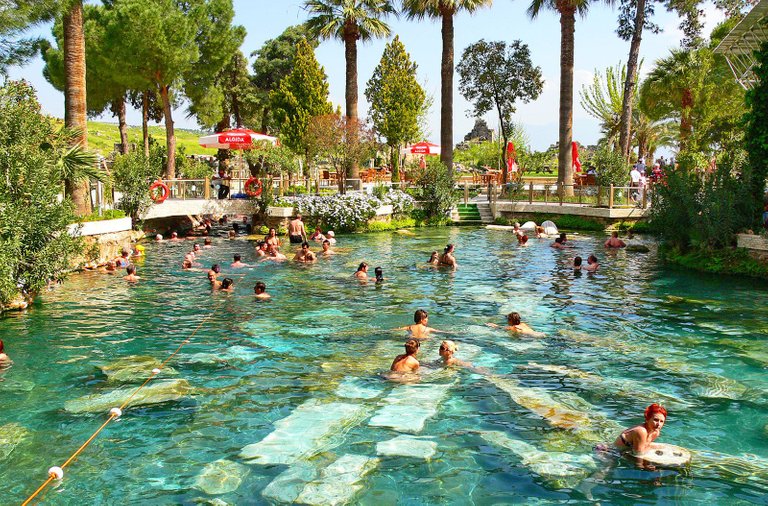 source
Cleopatra used to bathe in that wonderful pool!
A wonderful place. Seen from above, it looks like a sea of ​​ice. As if the waves are crashing. Anyone who sees the beauty of the place is bound to be amazed. A wonderful creation of nature.
It goes without saying that there are no tourists who have not visited Pamukkale while visiting Turkey. Pamukkale is a natural site in the province of Denizli in southwestern Turkey.
Pamukkal's name is also on the list of World Heritage Sites. That's why every year at least 2 million tourists flock to see the place where Clipper's body gets wet! Understand the popularity of the place. Seeing the pictures of Pamukkal, you must be wanting to go there too!
The word pamukkale in Turkish literally means cotton castle or cotton palace. The Turks called it a cotton fort because of its resemblance to the white hill slopes of Pamukkal, a cotton garden cultivated in central Turkey.
Take a bath in Cleopatra's Antique Pool
in Marmaris, Turkey
Next to it is the Hirapolis (Roman spa town). Which was built in 190 BC. In the ruins there is a necropolis with a primitive theater and a tomb.
Which extends up to two kilometers. Pamukkale-Hierapolis, a wonderful combination of natural and man-made wonders, has now become a tourist hotspot.
Due to the accumulation of white calcium, a stair-like shape has been created in the place. There are references in some versions, considered as the sacred pool in Pamukkale.
Because there Queen Cleopatta of Egypt used to bathe. He used to swim in the ancient water of Pamukkal with joy in his mind! Which is located next to the Apollo Temple.
Pamukkale is known worldwide as Cotton Castle or Cotton Castle. There are pearly white landscapes and lots of small turquoise colored ponds.
In fact, there are warm springs and terraces of carbonate calcium minerals in that place of Pamukkal. Which is caused by the flowing water there.
The height of Pamukkal is more than 100 meters. White hills can also be seen from the nearest town Denizli. The town of Denizli is located about 20 kilometers from Pamukkale.
The temperature of the warm spring water of Pamukkal is 35-100 degree Celsius. There are at least 16 hot springs.
In 1986, Pamukkale was declared a UNESCO World Heritage Site, along with Hirapolis. The number of visitors has been increasing since then. June-August is the best time to visit Pamukkale.
To get to this wonderful place you have to reach Denizli (11 miles from Pamukkale) from Istanbul. From there you can reach Pamukkale in an hour by morning flight.
Visitors have to cross the terraces barefoot. So that fine calcite does not erode or stain. If you want, you can swim in the aquamarine pool first and then in the antique pool. For this, keep clothes with you.
---
Posted via proofofbrain.io