In the five years since Ethereum went online, the flow of funds on the chain has appeared in various forms: hundreds of millions of dollars have flowed to venture funds, such as the decentralized autonomous organization DAO in 2016 ; billions of dollars have flowed into crowdfunding, such as 2017 and 2018 The ICO boom ; there are also billions flowing into lending and exchange products, such as DeFi in 2020 . It remains to be seen whether these products can go out of the field of encrypted assets and reach more audiences. But if you pay attention to the core value of an open global financial platform , the answer is self-evident.
The financing model of mutual insurance has not received much attention yet. But when I met Hugh Karp , the founder of Nexus Mutual , in Berlin in 2019, I was very interested in this concept. Since then, the total lock-up volume (TVL) of Ethereum smart contracts has been rising steadily, and the demand for smart contract insurance has also increased. The effective Nexus policy has increased from US$1.1 million at the beginning of this year to US$ 45.3 million at the end of August . Now, it is close to 240 million US dollars.
1confirmation has been a member of Nexus Mutual since last year, and I will talk to Hugh every month to discuss the progress. Recent market for Nexus Mutual interest doubled, so this time I've come to the conference call record for people to understand that we discussed before, you can better understand Nexu Mutual this project and to the center of the insurance business.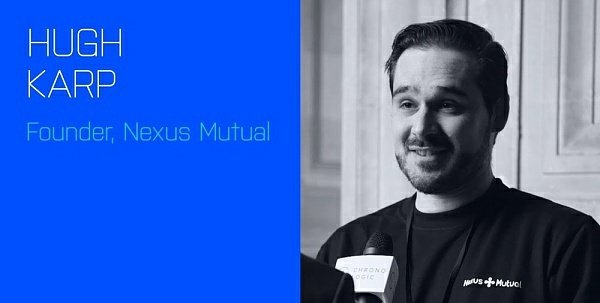 Hugh Karp, founder of Nexus Mutual

Core Aspects:
Yearn is currently the most insured project in Nexus

In the future, there will be a " shield mining contract " (shield mining contract) for the cold start of the project .

Institutional investors don't hate KYC

In the future, the pricing model and funding model will be fully on-chain , and decentralized governance will be gradually realized

In order to solve the transaction fee problem, the Layer 2 solution of Optimistic Rollup is preferred

Products will be more flexible and changeable , such as limited compensation for losses
Posted Using LeoFinance