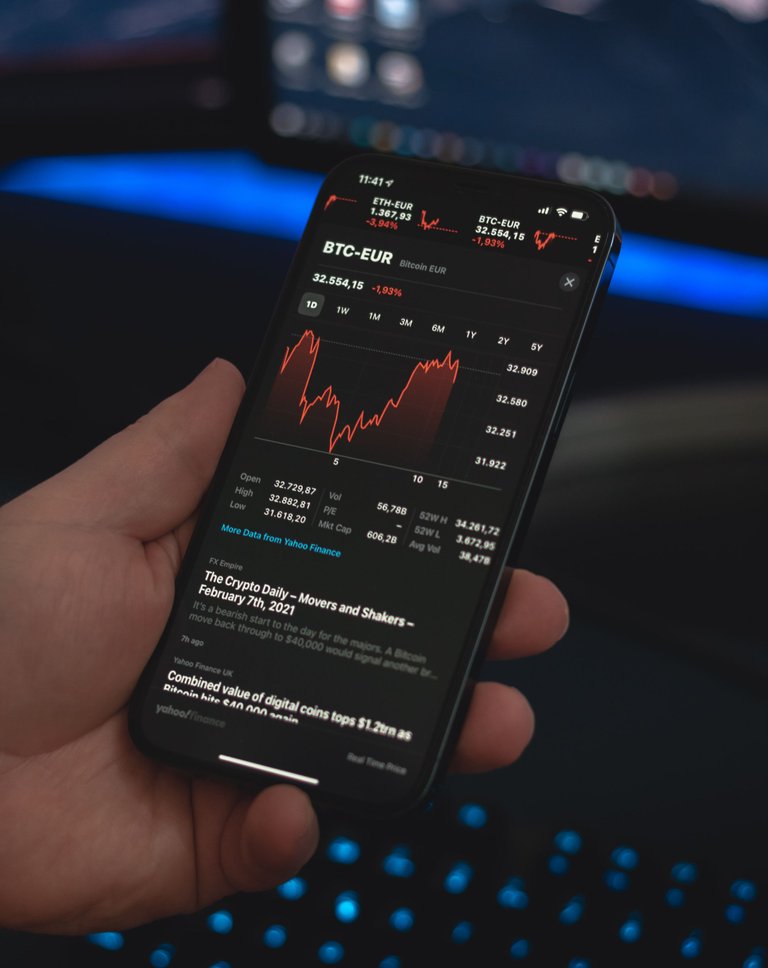 unsplash
ENGLISH
---
Believe it or not, it's the bear season in the crypto world and in so many people have started panicking and reading meanings into what is not there. I have always been of the opinion that the value of some coins and tokens are way more overvalued than it should have been. in that regard, I see the slashing of price on all coins as a correctional measure in establishing the value of coins.
While the slash in price might not seat down well with a lot of people especially the ones who bought at the very top, the fall in value also has its disadvantages too. For one, I see the dip in the value of all coins as an avenue for more people to get involved in the technology. The dip will allow for more adoption as many other people had thought of the value being expensive to own at one point in time.
While the adoption might not be the only advantage, I also see it as a means to reach new markets and creating other markets. A lot of people have a lot of project in mind for them to create in the first place and with the fall in the value of this coins, it just afforded them the luxury to buy more coins such as BNB, ETH, SOL and FANTOM in order to build their own project.

The dip in value is also to serve as a reality check to greedy holders who despite having over multiple of 5 of their initial investments still wanted more. Some people invested 1000 USD and at some point, their profit was around 5000 USD but greed made them held on instead of talking profits as of when due. Although no one knew when the bear season will come and that's why profit taking can not be overemphasized.
It is true that whatever has a good side will possess a bad side too and the dip in the value of coins also has its own downsides too such as fear. Someone without a ground knowledge of how the crypto sphere work will afraid of seeing the crash in value but with understanding bings about relaxation to the mind.
It might even discourage new people from entry but in defence of the technology, if you don't get well-grounded detailed knowledge of it in the first place, then trusting and understanding it might be tough. With that being said, it's advisable for anyone looking to jump into this blockchain and crypto world to get the knowledge first before dedicating time and capital to it.

By the way, a lot of good news has been terminating from the crypto sphere of late and with the adoption of the BITCOIN as a legal tender in two countries now (El Salvador and Paraguay), one could expect the coin to further grow, thereby moving the market into a bull season. With that being said, What's your view on countries adoption of Bitcoin as a legal tender and do you think other countries will follow that path this year?
SPANISH
---
Lo creas o no, es la temporada de los osos en el mundo de las criptomonedas y por eso mucha gente ha empezado a entrar en pánico y a leer significados en lo que no hay. Siempre he sido de la opinión de que el valor de algunas monedas y tokens están mucho más sobrevalorados de lo que deberían. en ese sentido, veo la reducción del precio de todas las monedas como una medida correctiva para establecer el valor de las monedas.
Si bien el recorte del precio puede no sentar bien a mucha gente, especialmente a los que compraron en lo más alto, la caída del valor también tiene sus desventajas. Por un lado, veo la caída del valor de todas las monedas como una vía para que más personas se involucren en la tecnología. La caída permitirá una mayor adopción, ya que mucha gente había pensado que el valor era caro de poseer en un momento dado.
Aunque la adopción no sea la única ventaja, también lo veo como un medio para llegar a nuevos mercados y crear otros. Mucha gente tiene un proyecto en mente para crear en primer lugar y con la caída del valor de esta moneda, sólo les permitió el lujo de comprar más monedas como BNB, ETH, SOL y FANTOM con el fin de construir su propio proyecto.

La caída del valor es también para servir como un control de la realidad a los titulares codiciosos que a pesar de tener más de un múltiplo de 5 de sus inversiones iniciales todavía quería más. Algunas personas invirtieron 1000 USD y en algún momento, su beneficio fue de alrededor de 5000 USD, pero la codicia les hizo aferrarse en lugar de hablar de los beneficios a su debido tiempo. Aunque nadie sabía cuándo llegaría la temporada de osos y por eso no se puede exagerar la toma de beneficios.
Es cierto que todo lo que tiene un lado bueno también tiene un lado malo y la caída del valor de las monedas también tiene sus propias desventajas, como el miedo. Alguien que no tenga un conocimiento básico de cómo funciona la esfera de las criptomonedas tendrá miedo de ver la caída del valor, pero con la comprensión se produce la relajación de la mente.
Incluso podría desanimar a la gente nueva de la entrada, pero en defensa de la tecnología, si no se obtiene un conocimiento detallado bien fundado de ella en primer lugar, entonces la confianza y la comprensión podría ser difícil. Dicho esto, es aconsejable que cualquier persona que quiera entrar en este mundo de la cadena de bloques y las criptomonedas obtenga primero los conocimientos necesarios antes de dedicar tiempo y capital a ello.

Por cierto, un montón de buenas noticias han estado terminando de la esfera cripto últimamente y con la adopción de la BITCOIN como una moneda de curso legal en dos países ahora (El Salvador y Paraguay), se podría esperar que la moneda crezca aún más, moviendo así el mercado en una temporada alcista. Dicho esto, ¿cuál es su opinión sobre la adopción de Bitcoin como moneda de curso legal en los países y cree que otros países seguirán ese camino este año?
Posted Using LeoFinance Beta