History
20 weeks and 4 days ago, on May 27th, 2020, we first announced the Weekly Hive Charity Giveaway.

19 weeks and 5 days we officially launched week 1 on June 2nd, 2020.
Participants Results
We have also had a total of 27 unique participants.

We have collected a total of 168 $HBD since then.

This means $84 HBD was collected for @papilloncharity and $84 HBD was rewarded in 20 different prizes for 1st and 2nd place draws.
I made a pie graph: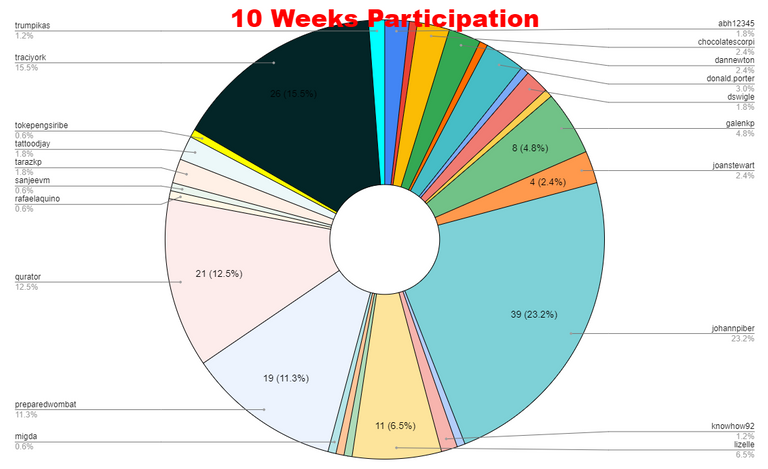 My apologies if you name isn't on here, google only puts on the top 20 names, so a few who only sent 1 $HBD total are missing.
I also made a chart.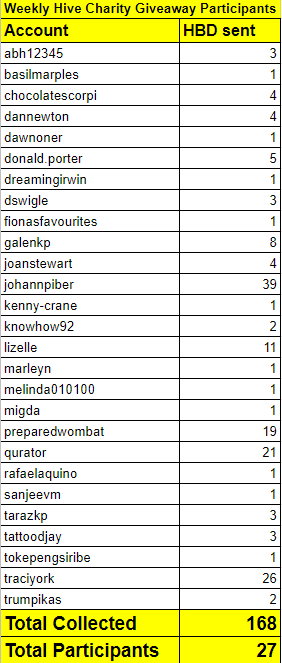 We also collected some direct donations
We collected a total of 59.6 $HIVE and 1.333 $HBD in donations from 10 unique accounts.

All $HIVE sent is a donation, any $HBD not in a multiple of 1 is a donation, any $HBD specified as a donation is a donation. All donations went to @papilloncharity.
I made another chart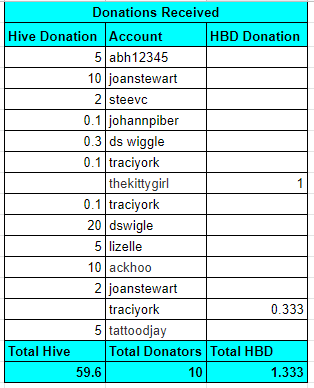 We also received a lot of help
@papilloncharity has been the beneficiary of the #weeklyhivecharitygiveaway and received all donations and 50% of all prizes for his charity. The charity draw was his idea and he is the owner of the @combination account.
@tarazkp has been giving a lot of advice and counselling. He is a benefactor who has given a 10000 HP delegation to @combination so it can follow excellent curators and vote on posts to collect some curation rewards.
@abitcoinskpetic has been running the charity draw for the first 10 weeks, the #verifiableRNG system was set up by him, draws have been done by him and the weekly posts (including this one) have been written by him.
Other Results
Resulting from the delegation and post rewards we have collected a total of 530.969 HP. When this account is powered down it belongs to @papilloncharity.
We also have 12.434 $HBD from post rewards. This belongs to @papilloncharity.
Conclusions
138 days have passed since we first started collecting donations on June 2nd. 50% of the collections is 84 $HBD, we also received 1.333 $HBD in donations for a total of 85.333 $HBD and 59.6 $HIVE.
Hive is currently worth $0.15 and $HBD is currently worth $0.86, so the total collected is $73.70 in $HBD and $8.95 in $HIVE. for a grand total of $82.65 or an average of just under 60 cents a day.
Important Announcment
I, @abitcoinskeptic will be stepping down from my role doing the draw.
On average I have been spending an hour or 2 depending on the week managing this. The role has been satisfying and I learned a lot.
My work has been entirely volunteering. I have never collected any rewards, donations, etc or received any compensation. I do not want any.
Unfortunately, I have a lot going on in the real world with other work and stuff. I barely post on Hive in my own account. I'm not a drama queen, don't worry I'm not quitting, I'll do that when I can manage.
As soon as I publish this, I will send the 12.434 $HBD in the @combination wallet which are the liquid post rewards to @papilloncharity as a donation. After I will immediately delete the private posting and active keys from the @combination account. I suggest the password is changed, too. I don't have the owner key so I cannot do that.
I hope everything has been extremely transparent.
I will stay on in some capacity to help train anyone who ends up replacing me and make sure the week 11 and such work as expected.
read the older posts explaining it, try the RNG tool to produce the same results, etc). I can also give you my python script if you know how to use that but the tool is easy.
Finally, I have full confidence in @papillonchairty and everyone else and I want to emphasize, this has nothing to do with our relationship, the charity, Hive or anything unrelated to my personal life.
News
I'm sure there will be an announcement regarding whoever replaces @abitcoinskeptic. If week 11 takes longer than expected don't worry because everything is stored on the blockchain. Your patience is appreciated.
We have another exciting announcement and you will find out soon enough.
Thank you, everyone, for your kind donations and participating in the Weekly Hive Charity Giveaway