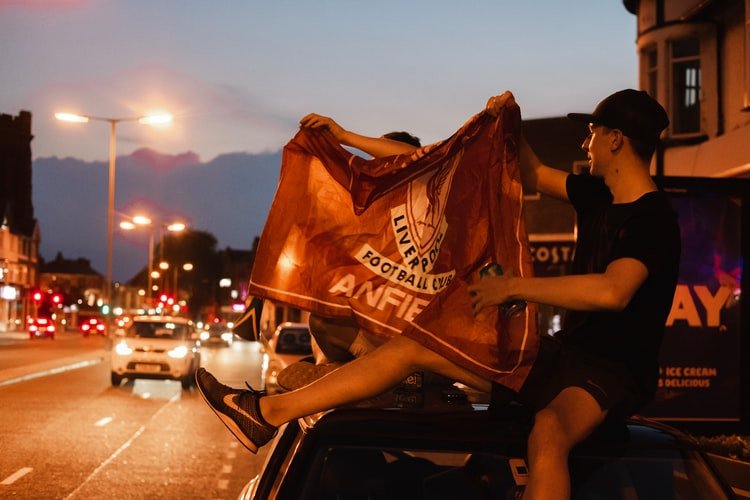 source
Mientras nos preparamos para otra semana de partidos (Semana 3) en la EPL, echemos un vistazo al partido entre el Liverpool y el Chelsea.
No es ninguna novedad que estos dos equipos están entre los mejores de la EPL y del mundo en general.
En el partido de hoy, esperamos ver a los grandes como Salah, Alexander-Arnod y Fermino entretener a sus fans mientras Lukaku, Alonso y James forman una dura resistencia a la desgracia. Por cierto, ¡eso es ficticio!
Inicio: 16:30 GMT
Árbitro: Anthony Taylor de Inglaterra
Lugar: Anfield (estadio del Liverpool)
Rachas de los equipos
Ambos equipos han ganado sus dos primeros partidos de la EPL.
En sus últimos 3 encuentros, el Liverpool ganó dos veces, mientras que el Chelsea lo hizo una vez, la última.
Liverpool:
El Liverpool está en muy buena forma, con más victorias que empates.
En los últimos 5 partidos jugados, ganó 3, empató 1 y perdió 1.
En los últimos cinco partidos jugados, 2 fueron partidos de la EPL, mientras que el resto fueron partidos amistosos de clubes en los que el Hertha BSC se llevó la victoria de uno de los partidos.
En el partido de hoy, es probable que el Liverpool no incorpore a su once inicial a Fabinho y James Milner. Esto sin duda tendrá efecto en su rendimiento. ¿Llevará al empate o a la derrota en este partido en casa?
Chelsea:
El Chelsea parece estar más preparado para este encuentro. Tiene el mejor registro de victorias que el Liverpool en este periodo.
En sus últimos 6 partidos, sólo han empatado 1 y han ganado 5. Eso es perfecto y alentador para hacer una apuesta. En los últimos seis partidos, como se ha dicho, han jugado 2 partidos de la EPL, 1 de la Supercopa de la UEFA contra el Villarreal y 3 partidos amistosos de clubes, de los que han empatado 1 con el Tottenham.
En el partido de hoy, el Chelsea no sumará a sus jugadores Christian Pulišić y Ruben Loftus-Cheek (Dudoso).
Para mí, los dos jugadores no tienen un efecto significativo en su posible once inicial.
As we prepare for another game week (Week 3) in the EPL, let's take a glance on the match between Liverpool and Chelsea.
It's no news that these two club sides are among the top teams in the EPL and the world at large.
In today's game, we expect to see the big boys like Salah, Alexander-Arnod and Fermino entertain their fans while Lukaku, Alonso and James form tough resistance to the disgrace. That's fictional by the way!
Kick off: 16:30 GMT
Referee: Anthony Taylor from England
Venue: Anfield (Liverpool stadium)
Teams Streaks
Both teams have won their first two EPL games.
In their last 3 meetings, Liverpool won twice while Chelsea won once, the lastest game.
Liverpool:
Liverpool is really in good form, having more wins than draws.
In the last five games played, they won 3, drew 1 and loss 1.
In the last five games played, 2 were EPL games, while the rest were club friendly games which Hertha BSC took the victory of one of the games.
In today's game, Liverpool is likely not to be adding to their first eleven, Fabinho and James Milner. This will certainly have effect on their performance. Will it lead to their draw or loss in this home game?
Chelsea:
Chelsea appears to be more ready for this meeting. They have the best winning record than Liverpool this period.
In their last 6 games, they only drew 1 and won 5. That's perfect and encouraging to place a bet. In the last six matches as stated above, they played 2 EPL games, 1 UEFA Super Cup against Villarreal and 3 club friendly games which they drew 1 of it with Tottenham.
In today's game, Chelsea will not be adding to their players Christian Pulišić and Ruben Loftus-Cheek (Doubtful).
For me, the two players have no significant effect in their possible starting eleven.
Veamos el posible once inicial de los dos equipos.
Let's look at the two teams possible starting eleven.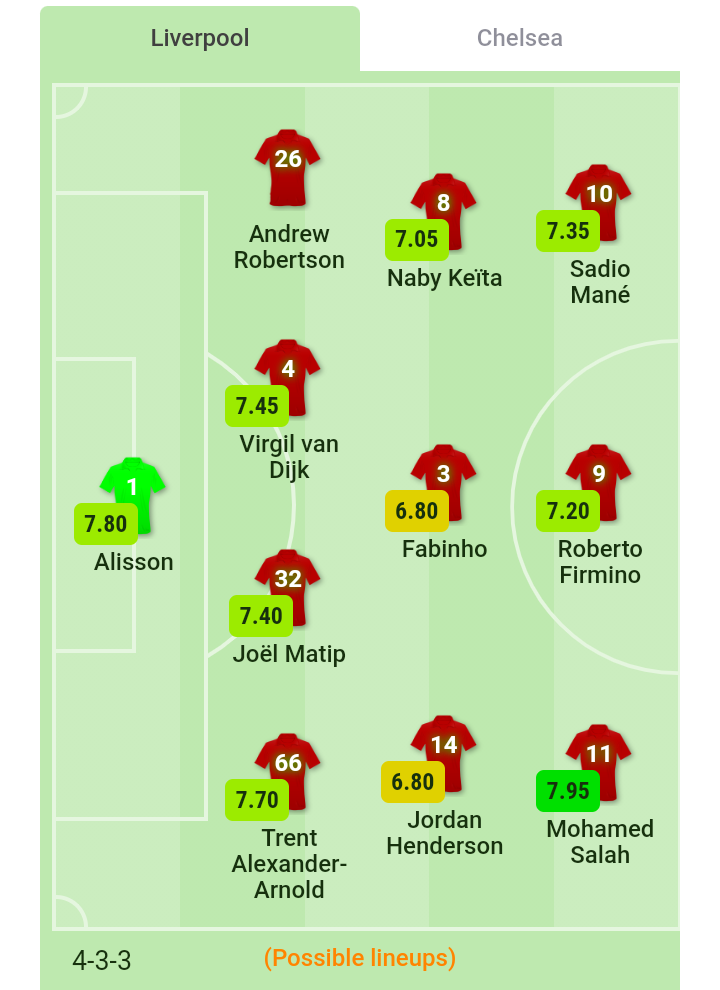 source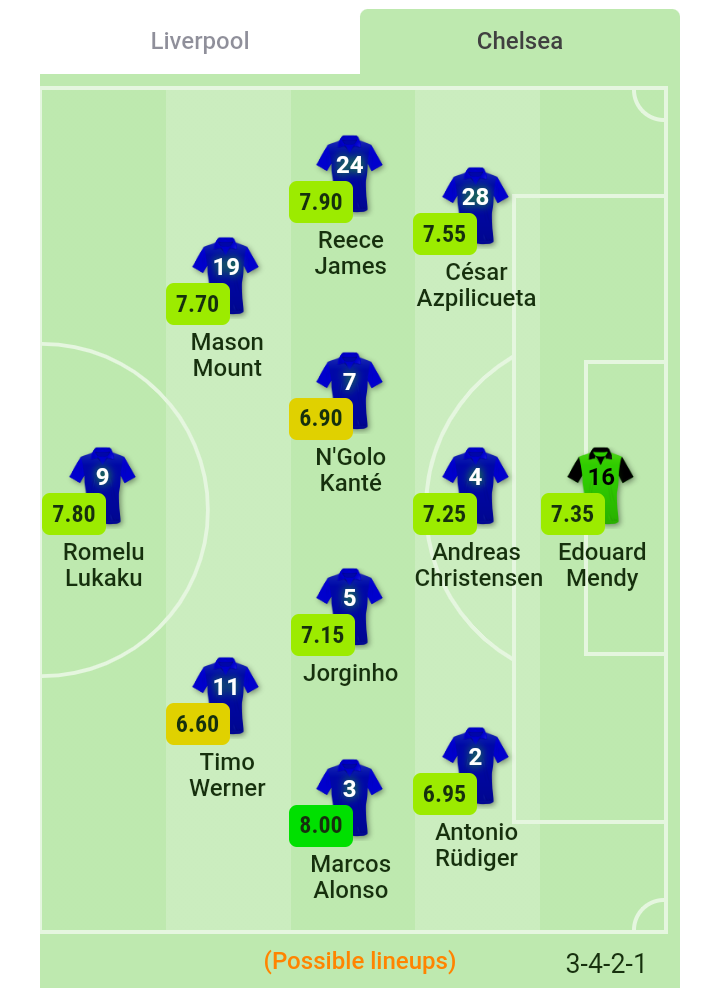 source
Entonces, ¿qué equipo puede llevarse la victoria?
So, which team can take the victory?